A Life of Learning: Abraham Lincoln's Pursuit of Wisdom by Will Foret
My rating: 4 of 5 stars
There was plenty of good new information on the learning process of Abraham Lincoln. The book was filled with amazing facts about Abraham Lincoln's education. It is unbelievable that he was able to write and read with his limited education.
To be basically a self taught man, he had a firm grasp on Latin, the classics, history books and so many more. It surprised me to find that he had only attended school sporadically.
I was totally impressed with his willingness to walk wherever he could find a book to borrow, no matter the distance.
Abraham Lincoln was a great thinker and an avid reader. He continued learning his entire life always seen with a book in hand.
I got this eBook while it was free on Kindle and I am so glad I found it. It is very short but has a lot of new and unusual information on this beloved president.
How Teddy Roosevelt Became A Man by Will Foret
My rating: 4 of 5 stars
There is so much personal and sometimes painful information packed in this little booklet. Teddy Roosevelt endured so much from the beginning of his life through his entirety.
Teddy was born sickly and the treatments they prescribed were so strange in the mid 1800's it will make you shake your head in wonder. The good part of his being a sickly child was the drive that it instilled to improve himself.
He had people that he looked up to and emulated which helped him choose his path in life.
The man lost so much in his life. One day he lost two special people. Each death really affected his life and his decisions. There is such sadness knowing that his grief overshadowed his heart.
This is a quick little read that makes you appreciate the President even more than before.This book is worth picking up and reading!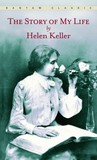 The Story of My Life by Helen Keller
My rating: 5 of 5 stars
I loved reading this book. I read it as a school girl and was awe struck. I lived in Alabama myself so I knew of her home, Ivy Green, and have visited it several times over the years. There was something wonderful about seeing from her own words how she had not only survived but thrived.
She had such an indomitable spirit that shone through. She was my hero when I was a child and she has not lessened the impact she had on me even today.
I have just re-read this book and I gained even more insight into her beautiful life. I had forgotten that she was able to read in English, German, French and Latin. She met people like Alexander Graham Bell and began friendships that she maintained all through her life. Her desire to learn and witness everything available to her was flawless. She attended plays and fairs and every event while having Anne sign into her hand a vivid description of her surroundings. She could describe these events in detail later in her life with such elegance that I could visualize it myself from her words.
She worked tirelessly on learning to speak and her greatest pain came from knowing that she was unable to communicate in a manner that everyone could understand. She and Anne Sullivan worked on correcting her pronunciation throughout her life with that one goal in mind.
Anyone that reads this will come out ahead realizing how amazing she truly was. With all her struggles she just pushed and pushed to make her life an amazing never ending adventure. Such an inspirational book, it is not to be overlooked.