The Wrong Brother by Bree Wolf
My rating: 5 of 5 stars
This story was short but it really touched me in such a special way. Isabella is a smart woman that has finally found a man that respects her brain as well as her other features. She is about to take the final step in that relationship when something unexpected happens. What a great book this was.
It had such heart. I will keep it as a go to my happy place read. I loved all of the characters. I can see this family coming back as a sequel. Maybe Bree has already considered that. Either way, this was one of the most perfect novellas that I have read.
I love the way Bree Wolf writes her characters. Each book I have read by her has so much heart and so much emotion that I fall in love each time. This time I fell in love a couple of times. This new series should be a wonderful collection of amazingly warm characters and I can't wait for more.
Bonus Review: Forgotten and Remembered: The Duke's Late Wife by Bree Wolf
Forgotten & Remembered: The Duke's Late Wife by Bree Wolf
My rating: 5 of 5 stars
This is the first book in the Love's Second Chance series. If this is anything to go by, it is going to be good.
This book held so many emotions. The hero has been married before and lost his wife in a riding accident. Graham Astor who is the Duke of Kinsington was left to mourn with his daughter Georgiana.
After much prompting Graham decides to marry in order to have a mother for his child. Graham grieves the loss of his wife so deeply that he refuses to acknowledge his new wife with even the most basic conversation.
Rosabel does not expect to be loved after she finds out about his tragic loss, but she finds that she wants more than to just exists in this home with his dead wife's memories.
This story has so many facets that I really was caught up with all the personalities. It is a sadly sweet story with love as the thread that holds it all together.
I truly loved this story. This is one of my most favorite books. I love to open it up and read it over again. Bree Wolf can really bring characters to life in the most beautiful way.
Additional Review: Cursed & Cherished: The Duke's Willful Wife by Bree Wolf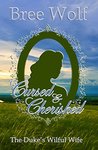 Cursed & Cherished: The Duke's Wilful Wife by Bree Wolf
My rating: 5 of 5 stars
This is the second book in the series Love's Second Chance.
To begin with you learn that Edmond Dunsworth, the Duke of Cromwell has lost his family fortune. His steward has heard of a man with two daughters that have a sizable dowry. After a very unusual meeting he decides to offer for Anna. He sees something in Anna that makes him want unravel her mysterious behavior. I really enjoyed the dinner scene, it was pretty comical.
The marriage becomes a very rocky ground when Anna's friend reminds her that men are devious. So Anna makes a plan to make the Duke sorry he chose her. It is a battle, a game that threatens to ruin any chance for happiness for either one of them. There are so many little sub plots that keep this story rolling at a quick pace.
Graham and Rosabel are in this book and that made me very happy to see how they are doing after a period of time. They are such wonderful characters from Forgotten and Remembered, the first book of the series.
If you have not read this series, you should. It is wonderfully written and full of strong independent characters. I can not wait for book three.