The Prequel To The Cozy Mystery Series
Death at the Café by Alison Golden
My rating: 5 of 5 stars
This prequel was a great way to get to know the Reverend Annabelle Dixon. She is just a wonderful character. She is a warm and Godly woman that has a very fun way about her. She is very bright and a joy to read about since she is rather quirky. Sister Mary is also a fun character. She is called the accidental nun by her friends. Sister Mary is caught in a terrible situation and so is not quite at her best. She keeps ending up at the wrong end of a police investigation.
I was glad to be able to read this even after I finished reading Murder at the Mansion. IT shed more light into Annabelle's personality. I have to say it is a joy to see how nosy she is and how that helps her solve mysteries that flummox the local police.
Annabelle Dixon is able to see through all the confusing clues and find the things that are only obvious to her in able to draw the correct conclusion.
This was a wonderful start to the Annabell Dixon Mystery series. She is really adorable. This book was just another great read by Alison Golden.
The Second Book in the Series
Murder at the Mansion by Alison Golden
My rating: 4 of 5 stars
This was a great cozy mystery. The Reverend of the local church, Annabelle stumbles across a murder and she is unable to stop herself from trying to solve it. She spends so much time at the crime scene looking for that one elusive bit of evidence that will solve this murder.
A good read, the Reverend Annabelle Dixon is wonderful and a very lovable character. She is so cute with her little car and her nosy personality. I just loved her. I also thought that Detective Inspector Nicholls was a very nice addition. It was also an addition that seems to have caught Annabelle's attention. All in all this was a fun mystery that I read at one sitting.
After reading this book I actually joined the readers group so that I could get another book about Annabelle. It turns out that the free book was the prequel to the series.To me this was another win for Alison Golden plus a solid 5 stars for Annabelle
Third Book In The Series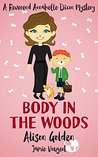 Body in the Woods by Alison Golden
My rating: 5 of 5 stars
This is book three in the series featuring Annabelle Dixon. Annabelle is the local Vicar and she has quite the nose for mystery. When a small boy discovers what appears to be a human bone in a shallow grave Detective Inspector Nicholls is called in to help solve the case.
Annabelle notices that there are some changes in Detective Inspector Nicholls as he seems angry and terse. Annabelle finds herself searching down clues as to the body in the woods and finds that there is a missing person from many years back.
Annabelle is also concerned about Philippa, as she too is acting out of character. she seems to have some moral dilemma going on. These are not too many mysteries for Annabelle to help solve at one time. She diligently seeks out clues and uses her gentle yet inquisitive personality to find answers to the puzzle.
Another hit for Alison Golden. She has created such a lovely world for Annabelle and it is a joy to join her there. After three books the Reverend is well know to me as a reader and I find her fun, compassionate and as diligent as a bull dog. She is amazing.
This series keeps getting better and better. It is a lovely cozy mystery that everyone should read.
Oh a super secret intro to the next Reverend Annabelle Dixon Mystery is included. shh… remember you didn't hear it from me.