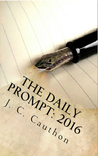 The Daily Prompt: 2016 by J.C. Cauthon
Print Length: 147 pages
Simultaneous Device Usage: Unlimited
Publication Date: November 1, 2015
Sold by: Amazon Digital Services LLC
Language: English
ASIN: B015CWR6YS
My Rating:
♥ ♥ ♥ ♥ ♥
My Review:
It is hard to mark this as finished since I will be using the entire year. The prompts are fun and challenging. I have been reading all the prompts that are from the start of the year. They are inspired. Having good, interesting and challenging prompts really get the creative juices flowing. As a writer that is what I want, a little prompt, a prod, a push into my creative​ mind. This book fills that need. It is inspiring.
If you are a writer, then you should pick up this book. It is really a great tool. I am looking forward to the 2017 version as they keep me inspired and thinking when I am between stories or books. The scenes that are in the book are unusual and light a spark.
Where to Find the Daily Prompts: 2016:
This book is avialable in Kindle and Paperback.