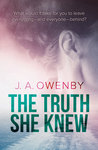 The Truth She Knew by J.A. Owenby
Series: The Truth Series
Paperback: 304 pages
Publisher: J.A. Owenby; 1st Edition edition (September 9, 2016)
Language: English
ISBN-10: 1533660549
ISBN-13: 978-1533660541
My Rating:
♥ ♥ ♥ ♥ ♥
My Review:
When I started this book, I did not know what a long painful and cruel journey I was starting. My heart breaks for Lacey and the opportunities that one miserable mentally ill mother can cost her child. That Lacey struggled with love and anger at her mother is an expected response, but to hear Lacey try to explain it, you can see the turmoil she faces in her struggle.
I absolutely abhorred her mother. I was tense reading this because it is so sad. There were humorous moments and happy moments, but the entire life of Lacey was overshadowed by her mother's abusive personality. Mental illness is never pretty, but it can be handled in an honest and beautiful way, and that is how Ms. Owenby paints her story, with hope, concern and tenderness.
I wanted what Lacey thought she had been given, and then to find it stolen, really broke my heart. I literally cried when hope was taken from her one time too many.
While I cried I also had great hope for this young woman. I wanted a happy ending for her, and true she found hope, it was a long bumpy ride along the way.
J.A. Owenby brought Lacey to life and made her a lovable character. A character with a heart. How often do we see people blame their failures on their situation, but Lacey wants more, she wants​ to thrive.
About the Author:
J.A. Owenby lives in the beautiful Pacific Northwest with her husband and two cats.
She's a published author of six short stories, and she is currently working on her second full-length novel. She also runs her own business as a professional resume writer and interview coach—she helps people find jobs they love.
J.A. is an avid reader of thrillers, romance, new adult, and young adult novels. She loves music, movies, and good wine. And call her crazy, but she loves the rainy Pacific Northwest; she gets her best story ideas while listening to the rain pattering against the windows in front of the fireplace.
You can connect with J.A. Owenby through her website Jaowenby.com or through Facebook, on Twitter, and on Google.
My Recommendation:
This book is such a strong testament to surviving and finding your own place in life against all odds. Both heartwarming and honest, the characters will draw you in completely. An excellent read showing the growth of a young girl through a difficult childhood. I would recommend this for young adults and adults due to the painful telling of this story. It has a powerful message.
Where to Find The Truth as She Knew It:
This book is available today in all formats, paperback, Kindle Nook, iBook and eBook at your favorite retailer, or by clicking the links below.