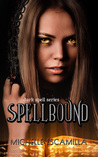 Spellbound by Michelle Escamilla
Print Length: 98 pages
Publication Date: March 18, 2016
Sold by: Amazon Digital Services LLC
Language: English
ASIN: B01CLT7KGE
My Rating:
♥ ♥ ♥ ♥ ♥
My Review:
This was such a great conclusion to the Dark Spell Series. I love the characters and the growth that the characters made. It was beautifully written. Part of the book made me astonished and then made me look at things in a completely different way.
Emma Blackwood didn't deserve to be attacked like she was and so I found that I hurt for her. Micha certainly had endured his fair share of problems and to see him being targeted, hit me hard.
This was such a full bodied story. It took the same characters that we had met, fell in love with and cheered for in book one, Dark Secret, the same couple we watched struggle in Book two, Wicked Spell and brought them back into our lives.
Now in Spellbound we caught up with them after they had been together for a while. Everything seemed to be going well for the couple. That is until Angelica Whitmore decides the time is perfect for revenge. She blames Emma for Sebastian Blackwood's demise and Angelica will not be happy until Emma suffers as she has.
This is dark, fearsome, sad,redeeming, and riveting. I wanted to be angry at Michelle Escamilla for writing something that made me feel so much for these characters, but she made it better after a while. Skillful writing at its best.
Where to Find, Spellbound: