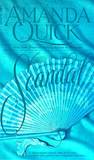 Scandal by Amanda Quick
My rating: 4 of 5 stars
As much as I love Amanda Quick, I never reviewed this book after reading it. It was a very good story. With the new book out by Amanda Quick, I am remembering all the great books I have read by her so far. In case you have not read her historical suspense books you can learn more about them and maybe find one or two you can't resist. They are fabulous.
I really pulled for the main characters and enjoyed the interaction with the pirates. Emily Faringdon corresponds with Simon Traherne, The Earl of Blade while he was and she becomes really enamored with him. She believes that they are meant to be together, that it was metaphysical connection. He has archaeological aspirations and she does as well. This is not really encouraged at this point in time, so she just appreciated him as a pen pal.
At times Emily was endearing and other times aggravating, but I loved her all the same. She knew what she felt and she pursued it.There was an incident in her past that forbade her to marry.
That Blade was not very nice to her is an understatement. He was cold and very rude and hurtful with his words. There was a hidden side to him that he feared being discovered. He was likable and even lovable, but he was too protective of his secret.
She might be a little naive but she was bright. Sometimes I wanted her to just plow into the Earl of Blade. He deserved it. I loved this book. I found it sweet and charming.
I felt the hope from Emily and I watched closely for Blade to crumble. The others in the story made it even more well rounded. I mean who doesn't like a few ex-pirates? They made it bearable while she was unsure. This story also shows the strictness of the times. Scandal was just another win in my opinion for Amanda Quick.

This book is available in Hardback, Paperback and on Kindle at Amazon.com. The AudioBook is also available from Audible at a discounted price as a companion piece. or freestanding at Audible.com