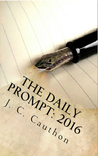 The Daily Prompt: 2016 by J.C. Cauthon
Print Length: 147 pages
Simultaneous Device Usage: Unlimited
Publication Date: November 1, 2015
Sold by: Amazon Digital Services LLC
Language: English
ASIN: B015CWR6YS
My Rating:
♥ ♥ ♥ ♥ ♥
My Review:
It is hard to mark this as finished since I will be using the entire year. The prompts are fun and challenging. I have been reading all the prompts that are from the start of the year. They are inspired. Having good, interesting and challenging prompts really get the creative juices flowing. As a writer that is what I want, a little prompt, a prod, a push into my creative​ mind. This book fills that need. It is inspiring.
If you are a writer, then you should pick up this book. It is really a great tool. I am looking forward to the 2017 version as they keep me inspired and thinking when I am between stories or books. The scenes that are in the book are unusual and light a spark.
Where to Find the Daily Prompts: 2016:
This book is avialable in Kindle and Paperback.
This challenge is to post a different blog daily starting with the letter from A to Z.
Today we are celebrating the jovial letter J!
The Blog dejour is:
J.C. has a wonderful blog that tells the steps and struggles of being an author.  She shares her progress on works in progress as well as book reviews of books that she is reading.  She writes polished and very honest reviews.
Each month she shares her previous month's words count and explains about her world building and publishing processes. J.C. is also very personable and friendly with her followers. She visits their blogs and offers comments and encouragement.
She also lives on a farm in North Carolina and I enjoy when she shares about her 31 or so cats and kittens.  How impressive that they each have a name, and she remembers them.
J.C. Cauthon has several books available on Amazon. She is really a prolific writer, with usually several books in the works at any given time. I think visiting her blog will be an enjoyable visit.
She is also the author of the Daily Prompt 2016 that I use so often. Her prompts are fun and they spark my imagination so well
.
Enjoy your special letter day today. J. C. Cauthon.  Today is all about you!
---
About the A-Z PE challenge.
This is a fun way to showcase blogs that you like and people that you want to know better. Come join us on the 26 day challenge!
This challenge was created by gapawa.
He came up with the A-Z People Edition challenge and it is an awesome idea. If you want to join in the fun, then just join in.There is no set date or month. Just 26 days of your choosing. Here is the link to the instructional blog you can visit
Here is a Quote from his blog explaining his motivation for this fun challenge.
" This is the people edition! So on the first day you find someone who's screen name starts with A and you check out their blog. The idea is that you read through some of their posts, introduce yourself and give them some feedback. Then, write your post of the day and publish it, describing who the person is and your experience finding and interacting with them, what you thought of their posts. What you came away with. I think it could be fun:)"